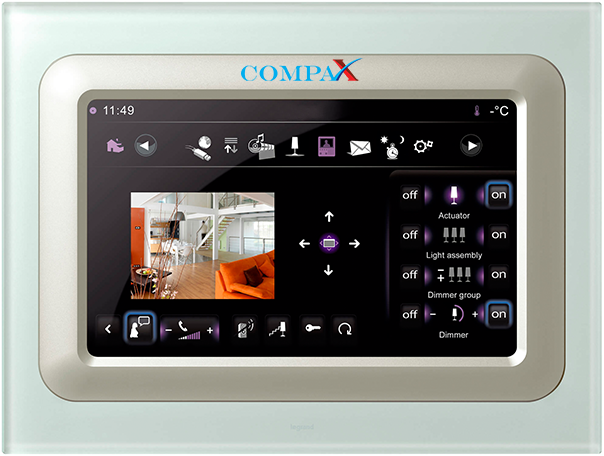 Can you imagine interacting with someone at your door without having to get to it? Can you Imagine to have your Room Air conditioning set ON before you reach Home ? Can you imagine to control the Curtains without actually being there ? With Compax smart home systems, lot more than this is imaginable and possible.
COMPAX introduces you to a smart way to Control your lights, AC, curtains at a touch of one button. The integrated control lets you manage the devices remotely from anywhere and anytime. You can program the devices to work under different moods for example in an evening mood, the lights will be turned on bright, and the AC will switch on, providing the perfect atmosphere.
You can also schedule for automatic activation/deactivation of devices like geysers and sprinklers or moods at required times.
Based on ZigBee , the intelligent home system is a high degree of automation solution for the home. the stability and response times are the same even when you control it through Smart Phones, Tabs, Remote control or the Smart switches.
Functionalities:
Through the smart & intelligent terminals, COMPAX smart home systems can easily manage all the smart home modules for individual control, combined control and scenario control.
COMPAX smart home system can have remote control on mobile phone, PAD or other PC through home intelligent terminals. Strong network connection of COMPAX smart system enables you to manage home automation equipments easily no matter where you are. The convenient and practical interface has illustrations and pictures showing the best combination of technology and humanity.
The lights in different areas can be turned on or off by different signals from the detector and sensor to the home intelligent terminals. These detectors and sensors are connected to the home intelligent terminal.
Through the host software, all the smart appliances can be controlled and set for delay, timing and scenario. With rich functions, it saves energy and makes more personalized scene settings.
The combination of smart modules achieves multiple controls, such as switch panel, intelligent terminals, wireless control, remote control and automatic timing.